Electrical Contractors
In Auckland
Thank you for visiting Redline Electrical & Security. We are here to meet all your electrical and security needs in Auckland. We provide registered commercial and residential electricians in South Auckland, North Waikato and Pukekohe areas. If it's high standards and uncompromised quality you require, Redline is the best choice.
As a strong team of experts, we have extensive experience in both the electrical and security industries. We are proficient in all electrical work, installing CCTV cameras and home security alarms as well as ventilation systems. Our customers return to us and have only positive feedback because of our exceptional standards of workmanship and customer service. For professionalism, affordability and guaranteed service delivery, go for red.
Electrical
For the best electrical services in Auckland, Redline is the name to remember. We pride ourselves on superior quality of workmanship.
CCTV
Need surveillance? More homes and businesses are turning to CCTV surveillance, and we can provide a reliable service for you.
Security
We specialise in top of the line alarms and monitoring systems for all residential and commercial properties in Auckland and Pukekohe.
Ventilation
With state of the art modern technology, we will provide a healthy airflow in your home or office. Experience the Redline Electrical difference with just one call.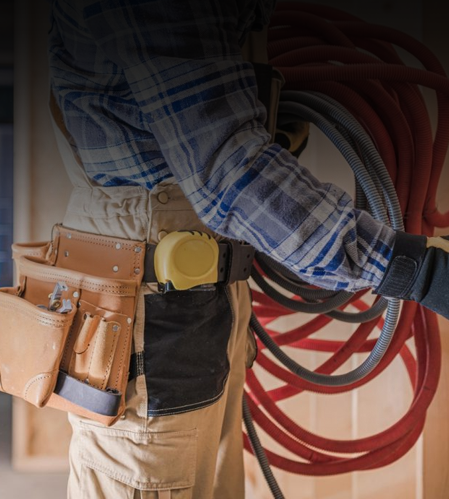 About Redline Electrical & Security
Who exactly is Redline Electrical & Security, and why should you put your trust in us?
Allow us to shed some light. The company's founder Andrew (better known as AJ), had been an electrician and security technician for 11 years when he finally decided that there was a niche in the market for a company like Redline. On January 17, 2014, the company was officially registered as a contractor for commercial and residential electricians and home security systems in Auckland.
After the first day of business on March 10 of that year, Andrew and his team have never looked back. The business has continued to grow in leaps and bounds, based on a firm reputation for quality and outstanding customer service.

Project 1
Read about how Redline Electrical & Security is making waves in South Auckland and North Waikato when it comes to dependable CCTV installation. Both homes and businesses are turning to Redline to up their security systems and give them peace of mind.
Project 2
Looking for electricians in Pukekohe? Find out how to find the best electrical contractors in Pukekohe and surrounding areas who are up to date with the latest technology and wiring methods. From qualifications to workmanship to after-sales service, you deserve the very best in quality and value for money.

Get In Touch With Friendly Electricians In Auckland
For registered electricians and security experts in South Auckland, Pukekohe and North Waikato, get in touch with us today. Our clients always experience 100% customer satisfaction and jobs completed to perfection. From electrical work to home alarms and CCTV installation or even ventilation systems, if you need it, we can do it, and we are ready to assist you on the double. Since our business has been built on referrals and word of mouth, you can be sure that the service we deliver is professional at all levels. We never cut corners!

"I think Redline Electrical & Security's work is clean and meticulous, I could not feel better about Andrew's capability, work ethic and general knowledge of his craft as he stands behind everything he does. They provided us with prompt and excellent service and we look forward to continuing our business relationship.
"The Redline team was on our job as one of their first after the company was formed. To Andrew's credit the job was superb and all details were taken care of. Contrary to most contractors these days Andrew's follow up and service is second to none. From our perspective, the Redline team go above and beyond."