Office & Home Security Systems In Auckland
Beef up your defence against intruders with Redline Electrical & Security. We are the leading security company in Auckland and specialise in top-of-the-line security systems for both residential and commercial settings. We know the importance of providing the best protection possible for the things that really matter in life. A Redline monitored security system can give you the peace of mind you need.
With our system, you can check the status of your home or office in real-time, 24 hours a day, 7 days a week, no matter where you are in the world, to ensure your loved ones and your assets are safe. Our hardwired and wireless options make it possible for you to enjoy life, knowing that your priorities are kept safe. Take back control of your safety. Choose Redline.

Our services range from a variety of burglar alarms to full-perimeter security systems. We have professional solutions for any security issue you may be facing with the ability to supply internal and external motion sensors, panic and duress alarms, as well as heat detection systems. Our skilled team will supply, install and service your home security alarms and fire alarms to guarantee the safety of your property and loved ones.

At Redline Electrical security company Auckland we offer a range of services that can be tailored to meet your specific needs and budget. Our specialised security services provide personalised options for keeping you safe on your property. Through advanced systems, we can maintain a secure environment for your home and office.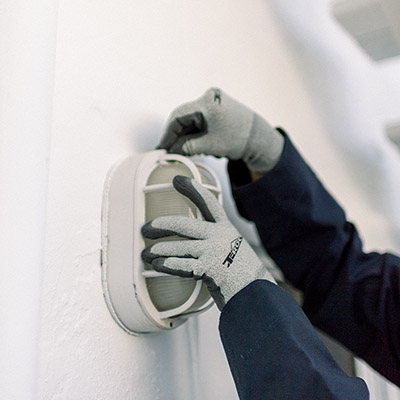 High Quality Security System In Auckland
Crime and fire emergencies are always a possibility and risks that are best avoided. With Redline Electrical & Security, you are in safe hands. We only recommend reliable, state-of-the-art, premium security systems that have been manufactured to the highest standards and tested extensively by our in-house security specialists. All our security systems are tested by our team to ensure flawless functioning. Whether it's just a motion sensor to turn a light on outside your front door to fully operational advanced security units, Redline has the options suitable for your home or business. Don't let intruders slip in unnoticed, and don't skimp out on your home security. Invest in quality security systems with us. Crime can strike anyone, so be prepared with the Redline team in your corner.

Residential & Commercial
Security System Auckland
Home alarm systems
Office alarm systems
Intercoms
CCTV systems
Wireless monitoring
Dialler monitoring
Access control
Tailored options
There's no compromising when it comes to safety, and we always endeavour to fulfil the particular wishes of our clients.
Sophisticated and functioning security systems:
We only use the best quality in the industry, but at times when technology fails you, we are quick to respond to necessary fixes and callouts.
Trust and respect
Our equipment is 100% reliable, and our team is experienced enough to protect your home and office while respecting your privacy. With our knowledge of security, Redline will keep your locations secured and safe under our extensive watch.